VIRTUAL LEARNING SEMINAR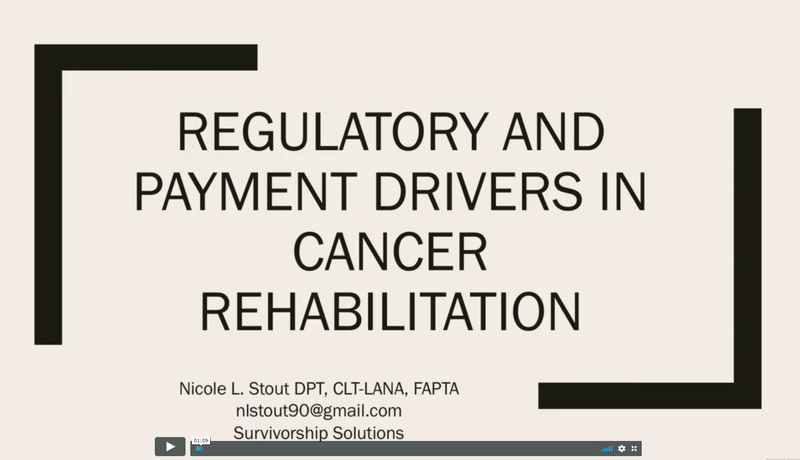 Regulatory and Payment Drivers in Cancer Rehabilitation (1:22:06)
a seminar included in:
COURSE: Core Competencies in Interdisciplinary Cancer Rehabilitation
---
---
COURSE DESCRIPTION
People diagnosed with cancer have unique and changing rehabilitative needs throughout their cancer care continuum. Cancer care is provided along a protracted timeline and occurs across many settings, presenting challenges in aligning comprehensive cancer rehabilitation services with existing and ever-changing payment policies.
This course provides insight for rehabilitation providers, case managers, and nursing & rehab administrators into the large number of cancer-related functional impairments that are aligned with Medicare payment policies. It explores ways to maximize services for individuals that require an acute inpatient rehabilitation stay and to leverage standardized elements of cancer survivorship care plans to support quality reporting requirements.
The audience will learn about current evidence that supports "reasonable and necessary" care for individuals with cancer at any stage of disease treatment to provide strategies that optimize payments for cancer rehabilitation services through Merit-Based Incentive Programs (MIPS).
The seminar concludes with the audience learning about strategies to implement rehabilitation maintenance care plans for individuals with a chronic cancer diagnosis within ongoing disease management to optimize the quality of life and function of the patient.
---
OBJECTIVES / AIMS



Identify common cancer treatment-related impairments that are aligned with Medicare's policies on acute inpatient rehabilitation

Understand the evidence that supports "reasonable and necessary" care for individuals with cancer at any stage of disease treatment

Develop strategies to optimize payment for cancer rehabilitation services through the Merit-Based Incentive Payment System (MIPS)

Develop strategies that enable maintenance care plans for individuals with ongoing disease management or palliation