VIRTUAL LEARNING SEMINAR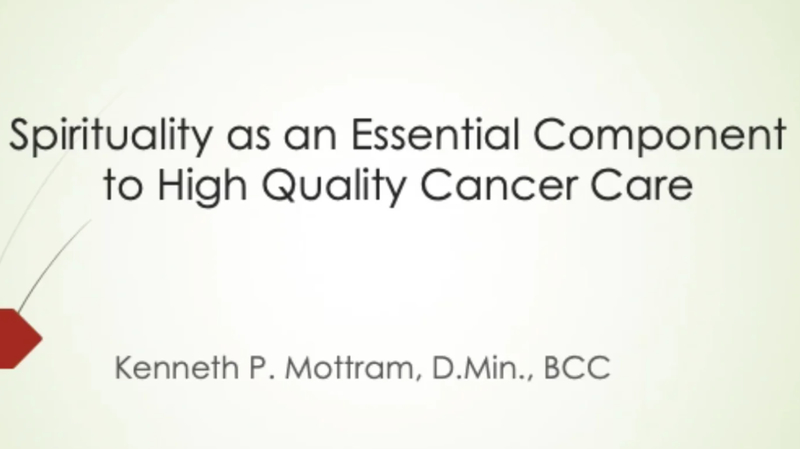 Spirituality as an Essential Component to High Quality Cancer Care (39:01)

a seminar included in:
COURSE: Core Competencies in Interdisciplinary Cancer Rehabilitation
---
---
COURSE DESCRIPTION
Over the last 20 years spirituality has become a recognized discipline and seen as crucial to the holistic care of patients. Yet, for people diagnosed with cancer, 72% feel their spiritual needs are minimally or not at all supported by the medical system.
As healthcare has become more patient and family-centered, and as accrediting bodies have demanded that care be delivered in a way that respects the cultural beliefs, traditions, values, and personal preferences of patients and families, spirituality has been recognized as a significant and needed addition to the plan of care.
The seminar addresses the differences between spirituality and religion and the importance of attending to those needs and concerns. The seminar presenter will review common spiritual needs that present through the cancer trajectory for survivors and co-survivors, and then he will provide common spiritual interventions to address those needs.
The audience will learn about the current research on spirituality distress and understand the vital role the spiritual team and the entire interdisciplinary cancer care team has in participating in life-affirming, inclusive spiritual discussions to identify and minimize spiritual suffering
---
OBJECTIVES / AIMS


Define spirituality and religion and understand the importance of attending to spiritual concerns
List common spiritual needs that present throughout the cancer trajectory for survivors and co-survivors
Discuss research on spirituality distress
Review spiritual interventions to address patient / family spiritual needs
Understand the spiritual team role in initiation of life-affirming, inclusive spiritual discussions and attention to addressing spiritual suffering