VIRTUAL LEARNING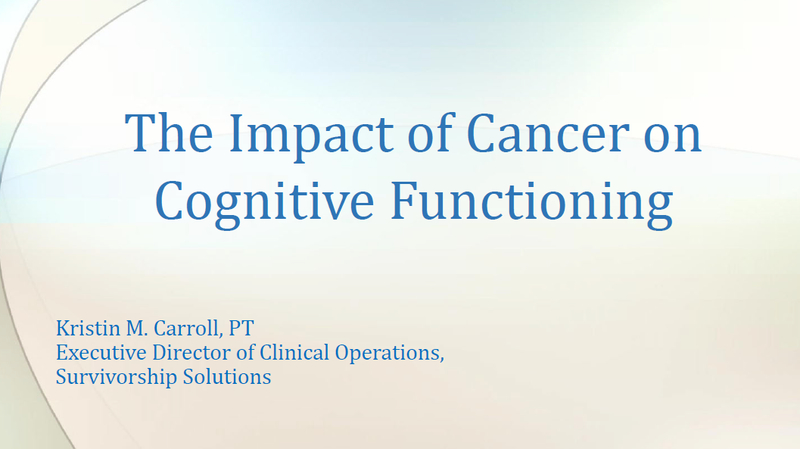 The Impact of Cancer on Cognitive Functioning (51:16)
a seminar included in:
COURSE: Core Competencies in Interdisciplinary Cancer Rehabilitation
---
---
COURSE DESCRIPTION
Cancer related cognitive dysfunction is a persistent and prevalent impairment that occurs in up to 75% of cancer survivors. Whether it is referred to as chemo brain, chemo fog, cancer-related cognitive dysfunction (CRCD), or chemotherapy induced cognitive impairment (CICI), changes in a person's memory, attention, concentration, processing, and executive functioning can be significantly impacted during a cancer diagnosis and treatment interventions.
In this seminar, the presenter will review the different kinds of cognitive dysfunction that may present during a cancer diagnosis. The audience will learn about the risk factors, symptoms and possible pathophysiological mechanisms and contributing factors for CRCD. The importance of utilizing screening tools and measures for early identification and monitoring of both premorbid and cancer related cognitive impairment will be discussed. The presenter will review industry standards and recommendations for incorporating interdisciplinary cancer care team evaluation and management of cognitive functioning into the comprehensive oncology care plan to optimize independence and quality of life throughout the care continuum.
---
OBJECTIVES / AIMS



Discuss cognitive dysfunction that presents during a cancer diagnosis and related common signs and symptoms

Review common causes of cancer-related cognitive dysfunction and contributing risk factors
Review national oncology organization guidelines and recommendations for cognitive dysfunction treatment interventions
Review validated tools and measures to identify and measure cognitive changes

Discuss transdisciplinary cancer care team interventions for cognitive needs in order to optimize function and quality of life