VIRTUAL LEARNING SEMINAR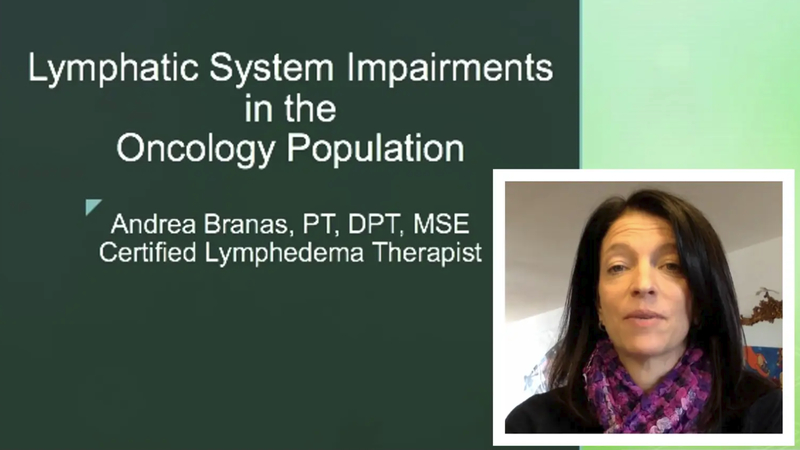 Lymphatic System Impairments in the Oncology Population (21:11)
a seminar included in:
COURSE: Core Competencies in Interdisciplinary Cancer Rehabilitation
---
---
COURSE DESCRIPTION
This seminar introduces clinicians to the basics of the lymphatic system and how it is affected by cancer. Clinicians will receive a broad overview of common lymphatic system disorders that occur after a cancer diagnosis, including secondary lymphedema.
At the end of this seminar the audience will better understand why patients with cancer are at risk for lymphedema and other lymphatic disorders and how patients can reduce their risk of developing lymphedema.
This seminar is intended for clinicians at all levels and is intended to set the stage for more specific learning about cancer rehabilitation. Clinicians intending to treat lymphedema require additional training to diagnose or treat lymphatic disorders.
---
OBJECTIVES / AIMS
Explain the anatomy and function of the lymphatic system

Discuss the link between cancer and lymphatic disorders

Describe common lymphatic disorders which may present after cancer diagnosis


Review strategies to reduce the risk of developing lymphatic disorders

Describe evidence-based evaluation and treatment for cancer-related lymphatic disorders