VIRTUAL LEARNING SEMINAR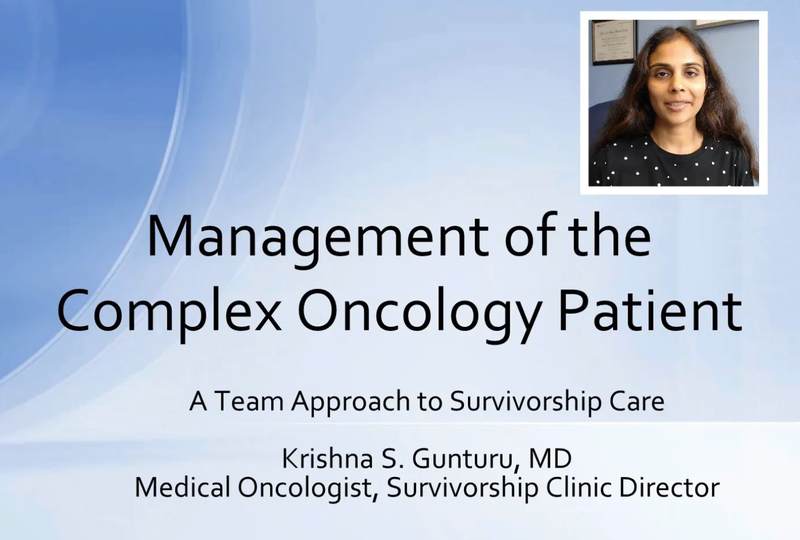 Management of the Complex Oncology Patient (18:51)

a seminar included in:
COURSE: Core Competencies in Interdisciplinary Cancer Rehabilitation
---
---
COURSE DESCRIPTION
Cancer is a complex disease and treating people with cancer can be a complex situation. The number of cancer survivors is climbing from 15.5 million now to a projected 26 million by the year 2026. It is imperative that cancer care teams work together to address the myriad of complex needs that patients experience due to the cancer or cancer treatments to minimize the effect that they have on a person's overall survival and quality of life.
The audience will learn about factors that contribute to the complexity of managing a person with cancer, as this diagnosis often complicates existing disease and health management. The presenter will detail how the overlay of numerous healthcare team members, treatments, psychological challenges, and other issues contribute to the complexity of cancer care.
There are multiple challenges and barriers within medical practices and healthcare organizations that also contribute to the complexity of caring for someone with cancer. The presenter explores the common barriers and provides solutions to managing these complexities through support and cancer care collaboration. The presenter will conclude with the role of the interdisciplinary cancer rehabilitation team in supporting and managing complex oncology patients.
---
OBJECTIVES / AIMS

Discuss how a cancer diagnosis complicates existing disease and health management
Discuss the effect of comorbidities and cancer, cancer management, quality of life, and overall health
understand how overlay of psychosocial issues contribute to the complexity of cancer and its care
Review how healthcare organizations contribute to complexity
Review common barriers in managing the complexities
Discuss management of complexities through support and cancer care team collaboration
Review the role of the interdisciplinary cancer rehabilitation team in supporting complex oncology patients