VIRTUAL LEARNING SEMINAR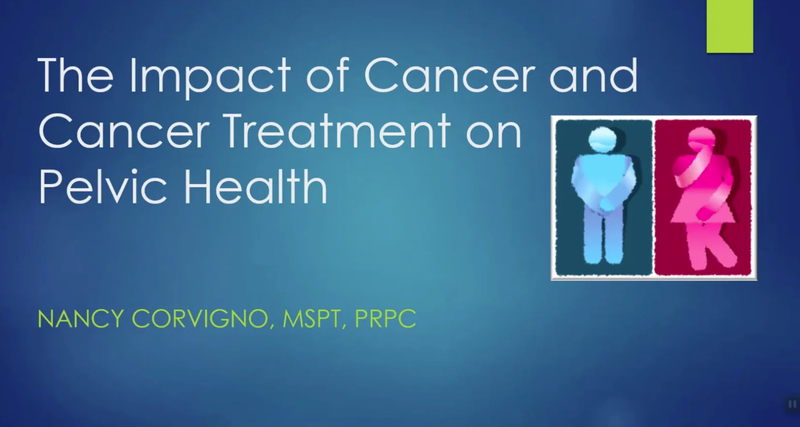 The Impact of Cancer and Cancer Treatment on Pelvic Health (25:39)
a seminar included in:
COURSE: Core Competencies in Interdisciplinary Cancer Rehabilitation
---
---
COURSE DESCRIPTION
Pelvic health dysfunction from cancer and cancer treatment is often uncommunicated and unidentified leading to diminished function and quality of life. The rehabilitation clinician is an integral part of the interdisciplinary oncology team for providing education and interventions to minimize the myriad of impairments. Pelvic health is affected directly from pelvic region cancers but also indirectly from all cancers and their associated treatment of surgery, chemotherapy and radiation.
The presenter outlines common cancer diagnoses and treatments that affect pelvic health in women and men and then discusses the acute, late and long-term effects on pelvic health and sexual function.
The audience will learn about the important role that the pelvic health therapist has on the oncology care team and how to develop pelvic health programs as a resource to provider groups and survivors. The presenter will review oncology rehabilitation competency for the treatment of pelvic health dysfunction and qualifications for specialty certifications in pelvic health.
The presenter will educate the audience regarding evidenced based pelvic health outcome tools and current and applicable research to impairments discussed.
---
OBJECTIVES / AIMS

Understand the role of the pelvic health therapist on the interdisciplinary cancer care team
Outline common cancer diagnoses and treatments that impact pelvic health in women and men
Review late and long-term effects on pelvic health and sexual function
Discuss pelvic health program development, as a survivorship resource, to oncology and primary care provider groups
Discuss evidenced-based pelvic health data collection tools
Review oncology rehabilitation competency and specialty qualifications for pelvic health therapists