VIRTUAL LEARNING SEMINAR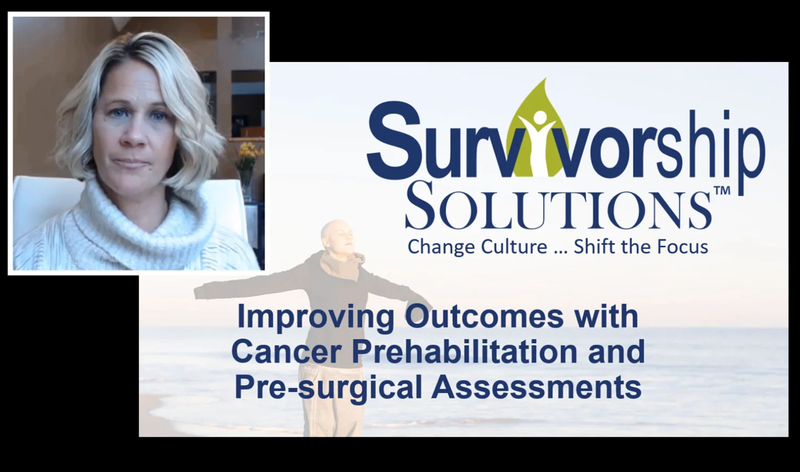 Improving Outcomes with Cancer Prehabilitation & Pre-surgical Assessments (29:37)
*Watch the Video DEMO (below)

a seminar included in:
COURSE: Core Competencies in Interdisciplinary Cancer Rehabilitation
---
---
COURSE DESCRIPTION
Pre-surgical assessments and cancer prehabilitation visits are touchpoints on the continuum of care that occur between the time of cancer diagnosis and before acute cancer treatments begin.
Providing physical and psychological assessments prior to surgery or other cancer treatments is a critical component of high-quality cancer care to help healthcare providers determine specific needs for intervention, educate the patient and caregiver, and acquire baseline information.
This seminar discusses the specific goals and benefits of pre-surgical assessments and prehabilitation for both the patient and the healthcare system. Common barriers to implementing these assessments are discussed.
The audience is introduced to prehabilitation program constructs and referral pathways that focus on patient-centered care and achieving the highest quality of life. We review the current research on pre-surgical assessments and prehab, and how that care improves cancer treatment options and health-related quality of life. Emphasis is placed on the importance of utilizing pre-surgical assessments and prehabilitation to address comorbidities and acute impairments for overall health promotion, decreased complication rates, and reduced hospital lengths of stay.
The speaker also discusses disease-specific prehabilitation interventions, and involving the interdisciplinary cancer rehabilitation team in both the unimodal and multimodal methods.
---
OBJECTIVES / AIMS

Define prehabiliation and pre-surgical assessments and their role in cancer care
Discuss prehabilitation and pre-surgical assessment goals
Review the benefits of prehabilitation
Outline prehabilitation program constructs and referral pathways
Describe common barriers to implementing prehabilitation