VIRTUAL LEARNING SEMINAR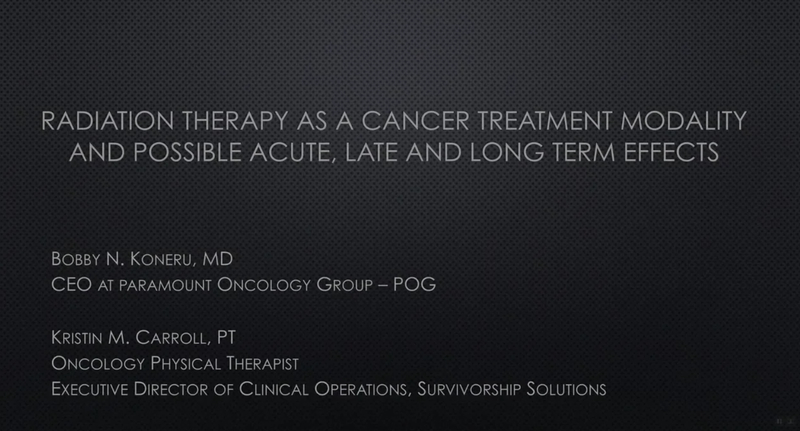 Radiation Therapy as a Cancer Treatment Modality and Possible Acute, Late, and Long-term Effects (1:48:48)
a seminar included in:
COURSE: Core Competencies in Interdisciplinary Cancer Rehabilitation
---
---
COURSE DESCRIPTION
In the oncology population, close to 60% of people will receive radiation therapy as a treatment modality to cure or control their cancer. With the progressive number of cancer survivors increasing in the United States, it is important to ensure that the interdisciplinary cancer rehabilitation team have an in-depth understanding of the effects of radiation therapy on cancerous cells and the body systems. This is important for patients in active cancer treatment as well as those with a cancer comorbidity.
In this seminar, Dr. Koneru explains the principles, evolution, and expanding role of radiation therapy. He reviews the goals of radiation as a primary or adjunct treatment modality for cancer and then educates the audience on the possible acute, late, and long-term effects for specific cancer disease types.
In the second half of the presentation Kristin Carroll discusses the role of the interdisciplinary cancer rehabilitation team and the importance of a team approach in providing holistic and timely rehabilitation interventions for optimized function and quality of life during and after radiation therapy.
She elaborates on specific radiation-induced body system changes and impairments, and she discusses specific precautions and treatment modifications for patients during and after radiation treatment. Se also reviews specific goals and modifications for safe and targeted rehabilitation interventions to support healing and maximize function of affected structures.
This cancer care team co-presentation highlights the cohesion that must exist between the oncology medical and clinical healthcare professionals both during and after radiation therapy to minimizing adverse effects, optimizing outcomes, and improve overall survivorship.
---
OBJECTIVES / AIMS

Explain the principles and types of radiation therapy
Discuss the goals of radiation as a treatment modality for cancer
Review plausible acute, late, and long-term effects of radiation therapy
Identify precautions during radiation treatment
Discuss interdisciplinary cancer rehabilitation team interventions during radiation treatment