VIRTUAL LEARNING SEMINAR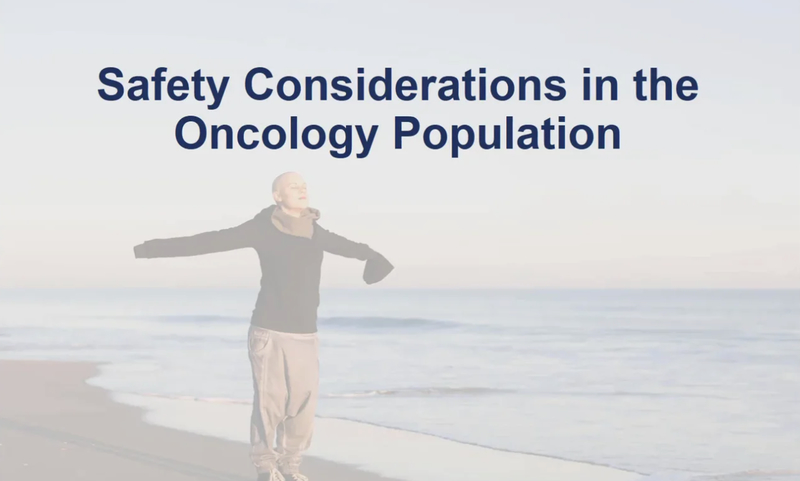 Safety Considerations in the Oncology Population (39:19)
a seminar included in:
COURSE: Core Competencies in Interdisciplinary Cancer Rehabilitation
---
---
COURSE DESCRIPTION
Cancer and cancer-directed treatments introduce a myriad of side effects and clinical implications that can adversely affect multiple body systems during and after disease management. Each treatment touchpoint may either singularly or collectively place survivors at risk for potential safety issues.
This seminar discusses the effects that cancer and its specific treatments incur on the body systems in the form of toxicities, impairments and overall decline and the relevant safety considerations. Cancer survivors are among the most medically complex to treat and acute awareness and attention to patient symptoms and responses are imperative to prevent further oncologic emergencies.
The speaker further educates the audience on the safety considerations and rehabilitation team implications in relation to these toxicities. Oncologic-directed therapies and protocols are constantly advancing, therefore the strong knowledge base of the interdisciplinary cancer rehabilitation team will ensure the safety of the oncology population in which we care for. Current research on rehabilitation interventions specific to the oncology population will also be discussed.
---
OBJECTIVES / AIMS

Discuss cancer and its treatment effects on body systems

Review common oncology terminology

Review breakdown of specific cancer treatments and relevant safety considerations

Discuss treatment related body system toxicities, safety considerations and rehabilitation team implications

Review safety considerations with cancer-related physical impairments

Discuss current research on rehabilitation intervention specific to the oncology population