VIRTUAL LEARNING SEMINAR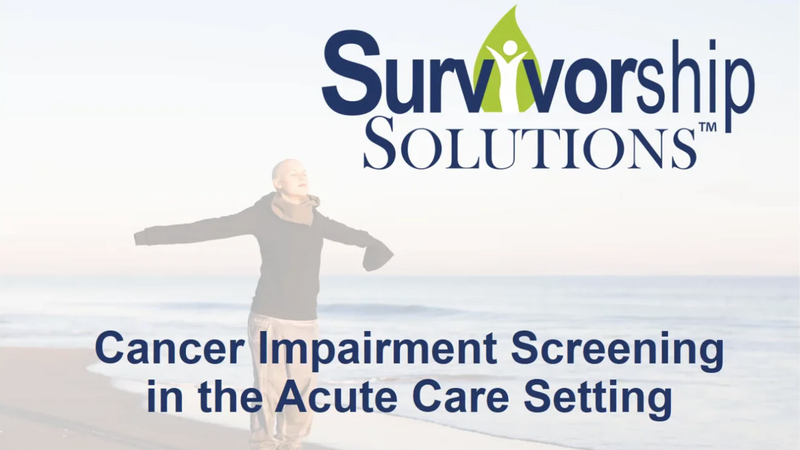 Cancer Impairment Screening in the Acute Care Setting (17:24)
a course included in:
COURSE: Core Competencies in Interdisciplinary Cancer Rehabilitation
---
---
COURSE DESCRIPTION
Annually, there are over 4.5 million cancer-related hospitalizations in the US. In this seminar, the speaker discusses the impact of hospitalizations on functional decline and overall cost of care.
When we look at the number of hospitalizations due to cancer progression, treatment complications, and emergent care, cancer care providers must ask themselves how acute medical and rehabilitation teams can affect better discharge outcomes and improve survivor function in this patient population.
Screening across the cancer care continuum is recommended by national cancer industry organizations and accrediting bodies to identify cancer-related impairments earlier and triage identified patients to appropriate cancer care services.
This course discusses the goals of physical impairment screening in the acute care setting and how it may affect impairment severity, functional decline, and survivors' quality of life.
---
OBJECTIVES / AIMS

Review acute care admission statistics for the oncology population
Understand the impact of functional decline on health, function, and overall cost of care
Review facility and patient goals for impairment screening in the cancer population
Review current screening tools available for use in the acute setting
Review barriers to implementing impairment screening in the acute care setting