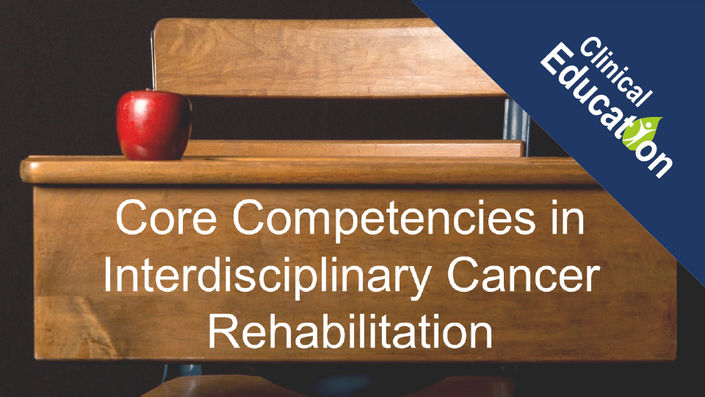 Clinical Education Course
Core Competencies in Interdisciplinary Cancer Rehabilitation
Enroll in Course
Course Information
The purpose of this course is to support healthcare professionals in gaining the confidence and competence to deliver safe, evidence-based, rehabilitative interventions to people living with and beyond cancer.
This clinical education course consists of 35 comprehensive seminars and is a collaborative effort by more than 25 interdisciplinary professionals and industry leaders with expertise in oncology and cancer rehabilitation.
Students of this course have 12 months from the day of enrollment to complete/review the material.
---
Course Description ∙ Objectives ∙ Agenda
Instructors ∙ Bios ∙ Disclosures

CE Credit
This course was developed for both clinicians and non-clinicians. Many clinicians who enroll in this course may also choose to claim CE credit for the renewal/support of their professional license. (It is the responsibility of all clinicians & therapists to be aware of the continuing education requirements for maintaining professional licensure in their respective disciplines within their individual states.)
This course is currently approved for 26 continuing education hours for physical therapists, physical therapy assistants, occupational therapists, occupational therapy assistants, speech and language pathologists, audiologists, and athletic trainers. It's in the final approval stage with the American Nurses Credentialing Center (ANCC) for nursing education credit. Physicians are also encouraged to apply independently for credit to support their professional licenses.
Participants who view all 35 seminars, pass each seminar's post-quiz with an 80% or higher, and complete the final course evaluation form will receive a general certificate of attendance from Survivorship Solutions.
A general certificate of attendance may not be utilized to receive formal CE credit. Qualified clinicians who wish to utilize this course to support the renewal of their professional license must register their contact and professional license information to receive an official CE certificate upon completion of the course. This is a quick and easy process that is completed through this educational platform at the initiation of this course by only those clinicians who have indicated their desire to receive CE credit. Students not interested in CE credit may skip the registration process.
You may refer (below) for additional CE information and contact details for CIAO, our CE Provider.
CE Credit Provided by
Course certificates & transcripts provided through CIAOSeminars.com
For questions regarding CEU/Course Credit/Hours, please contact CIAO directly.

Phone: 850-916-8886 | Toll Free: 888-909-2426 | Fax: 850-916-8885
---
CIAO is an ASHA Approved Provider (2.6 ASHA CEUs)

Starting August 7, 2020 Course will be registered with ASHA.
CIAO is an AOTA Approved Provider (2.6 AOTA CEUs)

Starting July 15, 2020 AOTA CEUs will be available.
This course meets PDU requirements for NBCOT (26 PDUs)
CIAO is a BOC Approved Provider #P2881. This program is eligible for a maximum of 26 Category A hours/CEUs. ATs should claim only those hours actually spent in the educational program.
CIAO is an Illinois Approved Provider for PT/PTA Continuing Education
CIAO is recognized as an Approved Provider for PT/PTAs by the NYSE Dept State Board for PT
This activity meets the continuing competence requirements for PT/PTA license renewal in TX
This activity is provided by the TX Board of PT Examiners Accredited Provider #2202009#TX
26.0 hrs PT/PTAs in IL, TX (26 CCUs)
PT/PTA: AR, CA, FL, LA, MD, MN, MS, NV, NJ, NM, OH, OK, TN, WV
PT/PTAs in AK, AL, AZ, CO, CT, DC, DE, GA, HI, ID, IN, IA, KS, KY, ME, MO, MA, MI, MT, NE, NC, NH, ND, OR, PA, RI, SC, SD, UT, VT, VA, WA, WI, WY
---

This course is offered for 2.6 ASHA CEUs (Introductory level, Professional area).

---

The assignment of AOTA CEUs does not imply endorsement of specific course content, products, or clinical procedures by AOTA.
---

Meets PDU requirements for NBCOT.
---

CIAO is approved by the Board of Certification, Inc. to offer continuing education for Certified Athletic Trainers. Provider #P2881. This program is eligible for a maximum of 26 Category A hours/CEUs.
---

CIAO automatically reports to CE Broker for Florida Occupational and Physical Therapists and Assistants. Florida Speech-Language Pathologists can either complete the ASHA CE Participant Form (Bubble Sheet) at the course or self-submit through CE Broker.